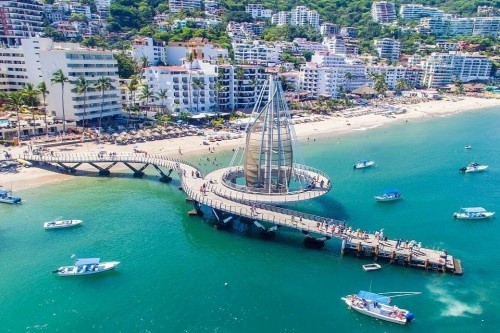 5 Non-Touristy Things You Need to Do in Puerto Vallarta
5 Non-Touristy Things You Need to Do in Puerto Vallarta
Photo credit: Kurt Bauschardt
Puerto Vallarta is one of Mexico's top tourist destinations, but that doesn't mean you have to stick to the most heavily-trodden tourist sites during your visit. Vallarta, as the town is known among locals, offers a bounty of not-so-touristy things to do that will show you the true beauty of the area and the people that call it home.
These five non-touristy things to do in Puerto Vallarta are ones that will make this winter's trip to Mexico your best one yet.
1. Eat on the Street
Photo credit: Bud Ellison
Puerto Vallarta is packed with touristy restaurants on the beach and the town's bustling malecon that offer food you'll recognize from Canada. There are Americanized Mexican restaurants serving chips and dip and overstuffed burritos, pizza places, Italian restaurants, Irish pubs and burger joints. None of these offer a taste of true Mexican food.
Instead, try fresh tamales served from the roadside carts along the busy downtown streets or taste the creamy Mexican corn cups (esquites) from the vendors on the beach. There is plenty of true Mexican cuisine to be found in Puerto Vallarta, you just have to be a little more daring to find it.
2. Hop on the Bus
Photo credit: antefixus U.E.
If you've spent even a day in www.flightnetwork.com Puerto Vallarta, you've seen multiple blue buses cruising down the city streets from far north of the "Hotel Zone" to "Old Town" and beyond. These buses are how the locals — and the more adventurous tourists — get around the city.
Hop aboard one of these local blue buses from your hotel's nearest bus stop and head to Viejo Vallarta. You'll enjoy a thrilling ride with the locals, and if you're lucky, you may even see a musician, clown or other entertainer on board. The buses run from early in the morning until late at night, so you can save money and enjoy a cultural experience while getting to and from your favorite Puerto Vallarta eateries, shops and nighttime spots.
3. Find Your Own Beach
Photo credit: Karl Stanton
Don't limit yourself to the beaches in front of your hotel and Puerto Vallarta's downtown area. The coastline spreads north and south of the city and is littered with breathtaking beaches with few tourists. Rent a vehicle or hire a driver to take you north of the over-crowded beach town of Sayulita to Lo de Marcos, San Pancho and other lesser known spots.
4. Line Up for a Parade
Photo credit: Brad Cerenzia
Mexicans love to celebrate, and you're always welcome to celebrate with them in Puerto Vallarta. The Fiesta of Our Lady of Guadalupe is celebrated from Dec. 1 to 12, each year. Parades take place in downtown Vallarta every day of the celebration, and you can line up with the locals and fellow travelers to watch. The celebration continues from there with parties (or posadas) through the Christmas holiday.
However, you don't have to visit Vallarta in December to enjoy a true Mexican celebration. There's at least one (often more) holiday celebration each month in Puerto Vallarta, so it's likely you'll get to join in on the fun.
5. Dine in Ixtapa
Photo credit: Hilary Perkins
Ixtapa is an area of Puerto Vallarta slightly inland from the city's Licenciado Gustavo Díaz Ordaz International Airport. This is an area where you'll find some unbeatable local eateries — ones your friends who have visited Puerto Vallarta would never recommend (only because they haven't been to them).
Try Mauricio's for authentic Mexican meals made of meats and seafoods. Head there between the peak hours of 2 p.m. and 3 p.m., and you'll enjoy a fun atmosphere filled with families, students and workers enjoying delicious eats, ice cold beers and live mariachi music. El Colegito is another authentic option if you're interested in heaping plates of seafood and free tequila — no joke!