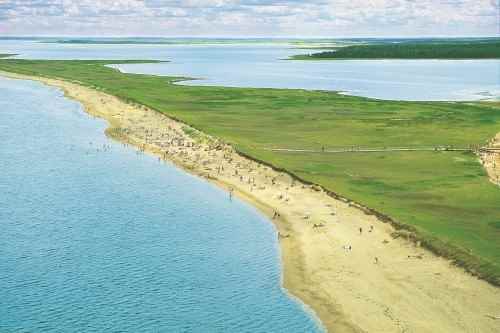 Adventures along New Brunswick's Acadian Coast
Adventures along New Brunswick's Acadian Coast
They say at www.pc.gc.ca Kouchibouguac National Park—a Parks Canada protected coastal paradise situated about an hour north of Moncton, in Atlantic Canada, along a dreamy stretch of New Brunswick's eastern shores—that it's hard to pronounce, even harder to forget. The same sentiment can be said of this region, which takes in parts of the Acadian coast. From beach walks along the warmest waters north of Virginia, to starry nights around a roaring bonfire in a Dark Sky Preserve, to the heartbeat of Acadian joie-de-vivre, discovering the terrific experiences along this stretch of coastline, should be on all travellers' wish lists.
Aerial view of Kouchibouguac National Park, along New Brunswick's eastern shores, about an hour north of Moncton, NB.
www.pc.gc.ca Kouchibouguac—it means the river of long tides—is an awe-inspiring, under-the-radar national park created in 1969 to protect the Maritime Plain natural region. Fascinating stories of Mi'kmaq, Acadian and English culture are lived in the park's jaw-dropping natural beauty of Acadian forest, bogs, lagoons, estuaries, sand dunes and salt marshes. The coast influences all the park's other ecosystems, with its most outstanding feature the sweeping barrier islands and sand spits that protect the fertile estuaries and salt marshes. Kouchibouguac, open year-round, has something special for everyone.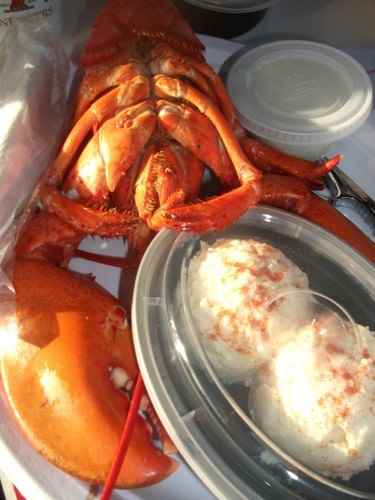 Kouchibouguac National Park of Canada
Much to do
Visitors to Kouchibouguac can canoe out to see the grey seals that come to rest on the dunes, wade into a lagoon with an interpreter to learn about sea life, amble down a boardwalk to bliss out in the warm waters of Kellys Beach, hike into the otherworldly landscape of the Bog Trail, take a geocaching lesson, and learn about the life of the endangered piping plover. That's just the start. A Dark Sky Preserve, picture nights stargazing around the bonfire. Camping is a park highlight, with backcountry and canoe-in sites as well as serviced sites, ready-to-camp accommodation, and even glamping in the form of www.pc.gc.ca oTENTiks, a wood based, canvas covered rustic tent/cabin, offered at various Parks Canada sites across the country. Along with its slate of interpretative programs, popular activities include walking trails, biking (along over 60 kilometres of trails, many of them flat) canoeing and kayaking. Rentals are available. Winter brings its own slate of fun activity.
Go glamping in the park's oTENTiks, Parks Canada's part tent, part rustic cabin offering.
Seafood (yes, seafood!) pizza
Fare from Pizza 5 Étoiles is a local favorite
In Saint-Louis-de-Kent, the village connected to the park, you find the world's largest Acadian flag, proudly flying in the breeze, and amazing seafood pizza at Pizza 5 Étoiles. "We're known for our seafood pizza, it's the best anywhere," our server says at the cash-only establishment. "We're three miles from the sea. The seafood is so fresh." Other good bets? Set the GPS to sample some Acadian food at LaFiouk café; Kouchibouguac Resort; and Chez Gisèle. Don't overlook the canteen at Kellys Beach for outstanding poutine. Their chocolate-dipped ice cream is a perfect after dinner treat.
Soap heaven
Dreamy scents of lavender and essential oils greet you as you pull open the door and step into Olivier Soapery in Saint-Anne-de Kent , an economuseum of Canada that illustrates the art of soap making with fun and informative free daily shows. As well as learning, there's an onsite boutique to stock up on artisan goodies from facial creams to bath bombs. Each month, different products are on special.

Acadian joie-de-vivre


In Bouctouche, delight in Acadian folklore at Le Pays de la Sagouine, a fictional 1940s prohibition-era fishing village based on the writings of international and award-winning novelist and native daughter Antonine Maillet. Costumed interpreters bring Acadian history to life on this small island along the shores of Bouctouche Bay, giving visitors a glimpse into the culture. Enjoy the comedic characters, and rousing music, the evening theatre, sample molasses cake and learn about the fishing trade and life of the Acadians.
Le Pays de la Sagouine
Dune walk

Next, be sure to stroll the boardwalk along the sand dunes stretching into Bouctouche Bay at the Irving Eco-Centre, La Dune de Bouctouche . Developed by J.D. Irving to protect one of the last great sand dunes on the northeastern coast of North America, it's a fascinating (and beautiful) ecology exploration.
Beloved beach
The Acadian adventure continues in nearby Shediac, home to one of the province's best known and most beloved beaches, the golden sands of Parlee Beach. The popular shoreline is home to some of the warmest salt waters north of Virginia, and makes for a great day trip with a range of activities on tap from building sandcastles to yoga and beach volleyball to chilling at the onsite restaurant.
Lobster lessons
Enjoy a lobster supper while cruising the waters near Shediac.
Shediac is also known as the lobster capital of the world and has the giant lobster sculpture to prove it! After the required photo-op with the roadside attraction, it's time to get down to business – namely booking a tour aboard