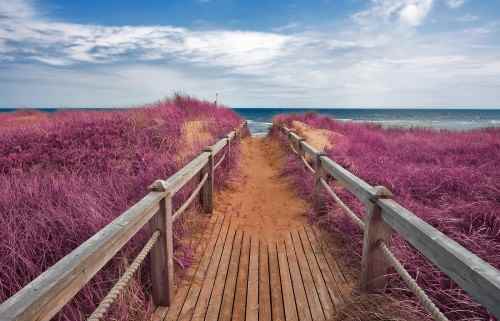 Five Canadian Island Getaways Close to Home
Five Canadian Island Getaways Close to Home
People often think of an island getaway as a jaunt to the tropics, but with over 200,000 km of coastline and the majority of the world's freshwater in lakes and rivers, Canada has countless islands to go along with all that water. There are plenty of options here in Canada that can provide excellent summer vacations- whether you want to hit the beach, be active or experience luxurious accommodations-that won't break the bank.
1. Prince Edward Island
This Island is also Canada's smallest province, and offers a host of activities, dining and accommodation options. Visit one of the many beaches to relax on the coast, or rent a bicycle and cycle along the Confederation Trail, which offers stunning views of the gently rolling landscape on the 'Gentle Island'.
Flights from Toronto and Montreal arrive at the Charlottetown airport daily. The capital city is a great place to begin your trip; stay in town to savour some of the East Coast's best seafood and hospitality. You can also access the island by ferry from Nova Scotia or via the Confederation Bridge from New Brunswick. If you are a fan of summer road trips, it is a 16-hour drive from Toronto.
2. Baffin Island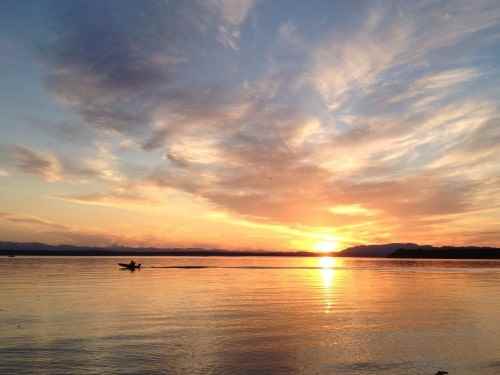 Photo Credit: Mike Beauregard
Canada's largest island is an outdoor adventurer's dream. Offering backcountry camping, hiking, and climbing in the warmer season, as well as ski touring in the winter months, this far-north destination is worth a visit for any nature-lover. Baffin Island is expensive to get to as there isn't a well-established tourist network, but this wild place offers unique experiences like 24-hour daylight in the summer months and the northern lights in the winter months. Whatever the time of year, Baffin Island is sure to capture your imagination.
Baffin Island is accessible only by plane or on a cruise. Iqaluit airport has regular flights arriving and departing from Ottawa and Montreal, and offers flights to smaller communities in Nunavut as well.
3. Cape Breton
Photo credit: Nicholas Raymond
Off the northern tip of the province of Nova Scotia, Cape Breton is home to some of Canada's most inviting beaches. Ingonish beach is well-liked by locals and tourists alike for its warm water and the unique geographical features that separate the Atlantic from the nearby fresh-water river flowing to the ocean, allowing the choice to swim in fresh or salty water. Sydney, the largest city on the island offers many fine dining options for a post-swim meal and opportunities to experience the Gaelic heritage, including the popular and lively Celtic music. The island is also home to the world-famous Cabot trail, a scenic coastal route that is worth taking the time to enjoy.
Cape Breton can be reached by car from the mainland of Nova Scotia via the Canso Causeway or from Newfoundland on the year-round ferry service. There is also an airport in Sydney with frequent flights to Halifax and Toronto.
4. Cortes Island
Photo Credit: Chantal Houde
Coastal British Colombia has no shortage of islands to choose from. Cortes is one of the more remote islands- it is a day's journey from Vancouver by car and ferry, though it is also accessible by seaplane. This small island, just west of Desolation sound, is home to only about 1,000 year-round residents, but it's population swells in the summer with vacationers from the rest of the province and Canada.
With hiking trails, two freshwater lakes or the ocean to swim in, a vibrant seafood festival and many other local activities happening in the summer months, there is no shortage of things to do. Cortes is also home to Hollyhock, a wellness retreat centre offering a variety of workshops and events for eight months of the year.
From Vancouver, take a ferry to Vancouver Island and drive north along the coastal highway 1 to Campbell River. Take the ferry from Campbell River to Quadra island and drive to the west side of the island where you can catch another ferry to Cortes. You can also fly into Campbell River from a number of British Colombian cities and then take the ferry to Quadra and on to Cortes.
5. Thousand Islands, Ontario
Photo Credit: Ryan McGilchrist
The Thousand Islands, in the St. Lawrence River on the Ontario- New York border are, as the name suggests, a group of over 1,800 islands. Boating is a popular pastime, and renting a watercraft or taking a scenic cruise will allow you to see many of the islands. Fishing, diving and kayaking are also popular options.
There are a number of historic sites in the area, including the impressive Boldt Castle, a large and lavish construction that George Boldt built for his beloved wife. The nearby Prince Edward County boasts a number of Ontario wineries that are worth a day trip.
The Thousand Island area is accessible from the Canadian side and the American side of the border. In Canada, the region is only a three-hour drive from Toronto or 2.5 hours from Montreal.
Have you been to any other remarkable islands in Canada? Please share your favourites in the comments!