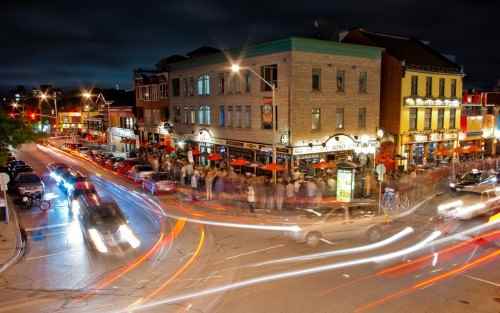 Exploring Ottawa: A Foodie's Paradise
Exploring Ottawa: A Foodie's Paradise
Ottawa foodies boast about their city's abundance of restaurant options to fill any craving on any budget. There is a wide range of ethnic options, from Vietnamese fare to Mexican, to Shawarma- an Ottawa favourite, as well as an impressive list of innovative haute cuisine spots that regularly attract attention nationwide.
Pubs
1. The Clocktower Brewpub has quickly become an Ottawa favourite. With four locations around the city and excellent wings, it is a great place to meet friends after work or for a drink on the patio on weekend. Tuesday wing and beer specials make it especially economical.
2. The Heart and Crown is a busy pub at the centre of the action in the Byward Market has live music and a popular dance floor on Saturday nights. The food is typical pub fare-skip it and have a meal somewhere else in the market then head here for post-dinner festivities. -67 Clarence Street
Photo Credit J. Michel
Hole in the Wall Favourites
3. Ottawa's Chinatown has more Vietnamese restaurants than anything else. All are tasty, but Pho Bo Ga 2 offers a wider range of choices, including big-as-your-head vermicelli bowls with fresh crunchy veggies and a selection of toppings for a surprisingly low price. They only accept cash, so come prepared. -843 Somerset St W.
Photo Credit stu_spivak
4. Ottawa has a number of Lebanese Shawarma options that taste unlike any Shawarma I've had anywhere else. Shawarma Palace, is the best of the bunch, and worth a trip to Ottawa's west end. Take your garlicy meal to go and picnic at nearby Britannia Beach. -2949 Carling Ave. Ottawa
Healthy Choices
5. The Table offers vegetarian home-cooking buffet-style. Prices can get steep, as it's priced by weight, but it is always worth it for the freshness and options available. Stop in here after a day in Westboro to refuel and unwind. -1230 Wellington Ave.
6. The newest addition to Ottawa's healthy food options, and a sister to the popular Pure Yoga Studios, Pure Kitchen is also in Westboro, one of Ottawa's trendiest neighbourhoods. Their selection of vegetarian food, smoothies and juices are reasonably priced and very tasty. Grab a fresh bowl and relax on the rooftop patio. -357 Richmond Road Ottawa
Photo Credit C. Houde
Innovative Up-and-Comers
7. El Camino a taco and tequila bar, came onto the Ottawa foodie scene and has been the city's new 'It' spot for the past few months. They have lots of sharable plates for $9-$16 and the tacos, at about $5 each are delicious and fresh- try to Ox Tongue, it's become the talk of the town. They don't take reservations, and there is always a lineup, so arrive early and plan to stroll around Elgin or along the Canal while you wait. -380 Elgin St.
8. Recently nominated as one of enRoute's best new Canadian restaurants of 2015, North and Navy serves Northeastern Italian fare in a laid-back, lounge atmosphere. The ingredients are seasonal and the dishes are unique and reasonable priced at $22- $29 for mains. -226 Nepean Street
Ottawa Fine-Dining Staples
9. Atelier is a full-on foodie experience. They serve a 12-course tasting menu for $110 each night, and their dishes change frequently. The innovative and always-surprising meal takes about 3 hours, so plan to spend your evening being wined and dined. -540 Rochester Street
Photo Credit Emily
10. Discuss fine dining with any Ottawan and Beckta will always come up in the conversation. This wine bar and French restaurant offers three or five course meals ($68 or $95) in a gorgeous restored house on Elgin Street. -150 Elgin Street
11. The menu at Allium, a trendy and relaxing spot in Westboro changes each month and uses local seasonal ingredients. The mains, at $25- 30 each are created with care, and they feature a 'surprise' dish, which is a fun way to try something new. -87 Holland Ave.
Whatever you are in the mood for, Ottawa's restaurants will surprise and satisfy. Have you dined out in Ottawa? What are some of your favourite spots?