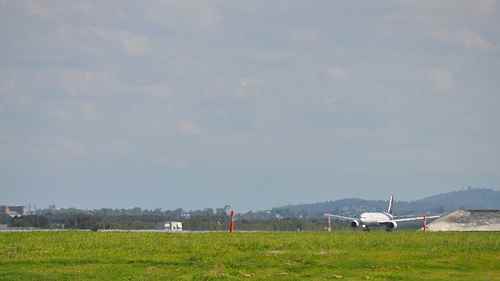 Brisbane Airport Soars as One of Australia's Busiest Airports
Brisbane Airport Soars as One of Australia's Busiest Airports
Photo credit: David McKelvey
If you plan on visiting eastern Australia, it's likely you'll fly into Brisbane Airport (BNE). It's Australia's third busiest airport with 26 separate airlines flying to 28 international and 42 national destinations. Whether you're visiting the city centre or plan to explore the states of Queensland and New South Wales, Brisbane Airport serves as a convenient hub.
Brisbane hasn't always been a bustling destination and jumping-off point. The city's first airport, Eagle Farm Airport, was established in 1925 and stood 6 kilometres north of the city. Qantas began their operations at Eagle Farm Airport in 1926, and pilot Charles Kingsford Smith completed the first flight across the Pacific Ocean there in 1928. A memorial and museum showcasing Smith's Fokker F.VII aircraft is located in BNE to this day.
Despite that monumental flight and several others, Eagle Farm Airport's landing space was considered too swampy, causing many flights to operate out of nearby Archerfield Airport instead. Archerfield Airport quickly became the hub of Qantas' operations when it opened in April of 1931. In the same year, flights to Eagle Farm ceased.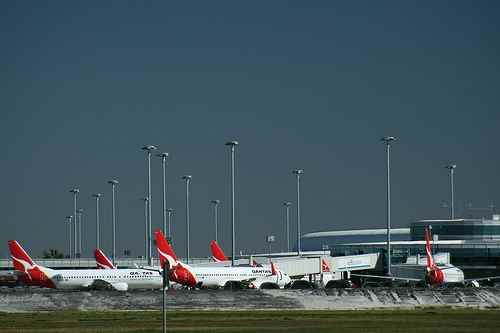 Photo credit:
During World War II, the United States upgraded Eagle Farm Airport to make it suitable for military flights. During the war, Brisbane served as the headquarters for General Douglas McArthur — the Supreme Commander in the Southwest Pacific area. The airport was upgraded to such a high standard that it once again became the city's main civilian airport. Eagle Farm Airport reopened as Brisbane Airport in 1946.
Improvements to aircraft in the 1950's continued to increase the popularity of the new Brisbane Airport. As interest in air travel began to grow over the next couple of decades, it became clear that the small Brisbane Airport facilities weren't enough to support the increasing number of travelers. A whopping 2,700 hectares were set aside for the building of the new and improved Brisbane Airport.
The new Brisbane Airport domestic terminal, control tower, and runway were opened in 1988. The international terminal's opening followed in 1995. Brisbane quickly became one of Australia's major airports.
Photo credit:
Brisbane's Flight Information Region (FIR) includes all of Queensland, the northern portion of Western Australia, a majority of the Northern Territory and www.flightnetwork.com New South Wales north of Sydney. Due to the nature of the airspace, it controls most international flights in and out of Australia (except Indian Ocean flights), and domestic flights operating to airports within the FIR. From Brisbane Centre, Airservices Australia manages the airspace over the northern half of Australia, representing 5 percent of the world's total airspace. The Brisbane Centre even has control over flights arriving to or departing from Sydney from the north.
The Brisbane Airport continues to be one of the most important
If you're passing through BNE on your future travels, you can feel confident using an airport that has been named No. 1 in Australia for its quality of service for 10 consecutive years.